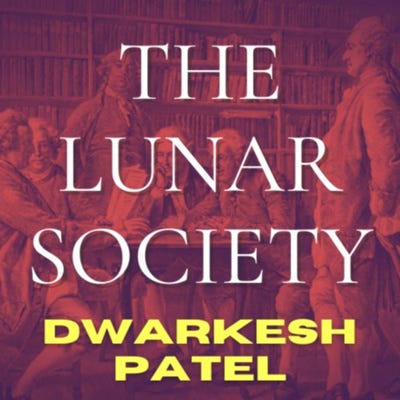 Apr 16, 2022 • 1HR 8M
Jimmy Soni - Peter Thiel, Elon Musk, and the Paypal Mafia
Transcript + YouTube, Apple Podcasts, Spotify
I interview the most interesting people and I ask the most interesting questions. YouTube: https://www.youtube.com/DwarkeshPatel Apple Podcasts: https://apple.co/3oBack9 Spotify: https://spoti.fi/3S5g2YK
Jimmy Soni is the author of The Founders: The Story of Paypal and the Entrepreneurs Who Shaped Silicon Valley.
Watch on YouTube. Listen on Apple Podcasts, Spotify, or any other podcast platform.
Episode website here.
Follow Jimmy on Twitter. Follow me on Twitter for updates on future episodes!
Thanks for reading The Lunar Society! Subscribe to find out about future episodes!
Timestamps:
(0:00:00) - Bell Labs vs PayPal
(0:05:12) - Scenius in Ancient Rome and America's Founding
(0:07:02) - Girard at PayPal
(0:15:17) - Thiel almost shorts the Dot com bubble
(0:19:49) - Does Zero to One contradict PayPal's story?
(0:27:57) - Hilarious Russian hacker story
(0:29:06) - Why is Thiel so good at spotting talent?
(0:34:50) - Did PayPal make talent or discover it?
(0:40:40) - Japanese mafia invests in PayPal?!
(0:44:42) - Upcoming TV show on PayPal
(0:48:11) - Musk in ancient Rome
(0:52:12) - Why didn't Musk keep pursuing finance?
(0:56:32) - Why didn't the mafia get back together?
(1:00:06) - Jimmy's writing process