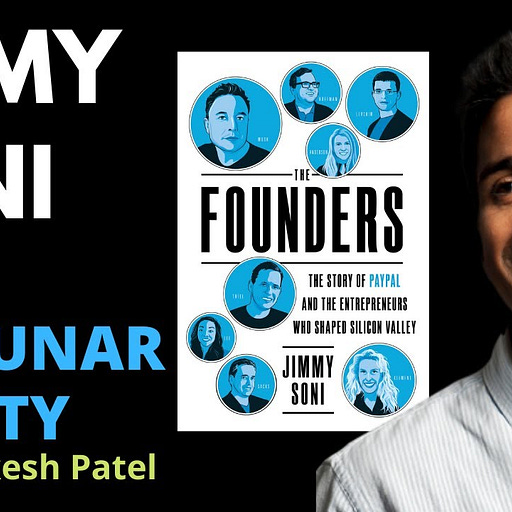 Apr 16 • 1HR 8M
24: Jimmy Soni - Peter Thiel, Elon Musk, and the Paypal Mafia
Host Dwarkesh Patel interviews economists, scientists, and philosophers about their big ideas. Watch on YouTube: https://www.youtube.com/c/DwarkeshPatel
Jimmy Soni is the author of The Founders: The Story of Paypal and the Entrepreneurs Who Shaped Silicon Valley.
Watch on YouTube: https://youtu.be/OEcOUgXvz7g
Buy the book: https://amzn.to/30PqMV2
Follow Jimmy on Twitter: https://twitter.com/jimmyasoni
Follow me on Twitter: https://twitter.com/dwarkesh_sp
Timestamps:
(0:00:00) - Bell Labs vs PayPal
(0:05:12) - Scenius in Ancient Rome and America's Founding
(0:07:02) - Girard at PayPal
(0:15:17) - Thiel almost shorts the Dot com bubble
(0:19:49) - Does Zero to One contradict PayPal's story?
(0:27:57) - Hilarious Russian hacker story
(0:29:06) - Why is Thiel so good at spotting talent?
(0:34:50) - Did PayPal make talent or discover it?
(0:40:40) - Japanese mafia invests in PayPal?!
(0:44:42) - Upcoming TV show on PayPal
(0:48:11) - Musk in ancient Rome
(0:52:12) - Why didn't Musk keep pursuing finance?
(0:56:32) - Why didn't the mafia get back together?
(1:00:06) - Jimmy's writing process